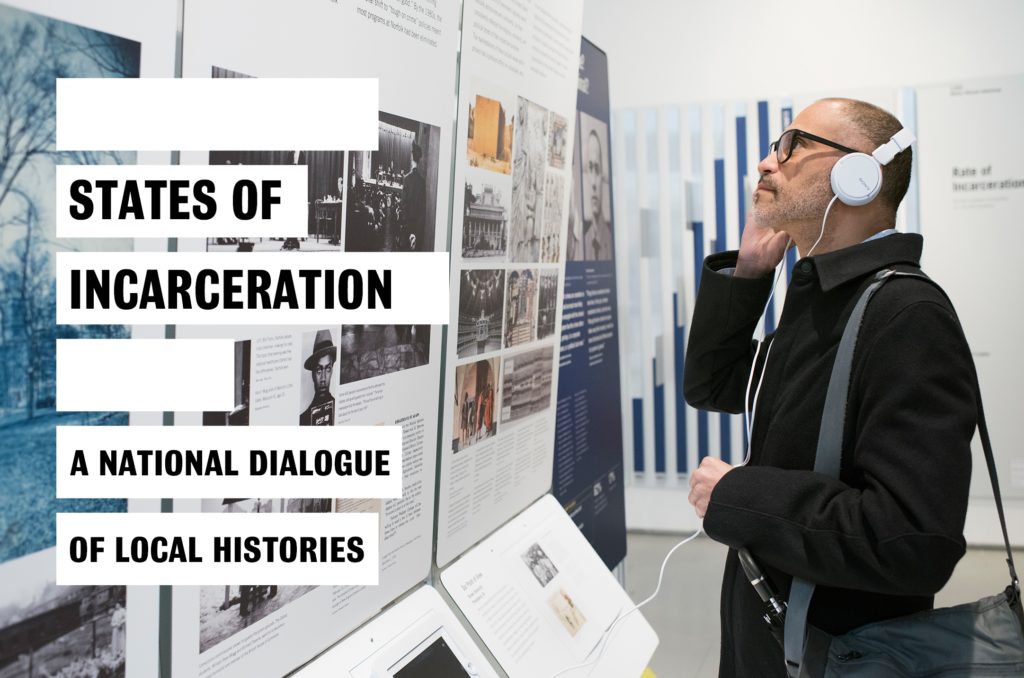 STATES OF INCARCERATION
A NATIONAL DIALOGUE OF LOCAL HISTORIES
March 13-30, Forbes Library, 20 West St, Northampton, MA and Historic Northampton, 46 Bridge St., Northampton, MA
Opening reception: March 13, 5-8 PM; featuring a guided tour of the exhibit at 6pm at Forbes, led by local residents who are featured in the exhibit, and a public reading by Voices from Inside at 7pm at Historic Northampton.
Forbes Library and Historic Northampton are partnering to present States of Incarceration, the first national traveling multi-media exhibition and coordinated public dialogue to explore the history and future of mass incarceration in the United States.
The exhibition will also be on view March 1-12 in Holyoke at The Wauregan (420 Dwight St), hosted by the Wistariahurst Museum with an opening reception on March 1 from 6-8 PM.
Website: http://pv-soi.org / Programs and events: https://pv-soi.org/programs/
States of Incarceration was created by the New School's Humanities Action Lab, a coalition of 500 university students and formerly incarcerated individuals from 20 cities, including students and faculty from UMass Amherst Public History Program and several local community organizers. It explores the history of incarceration by focusing on human stories from 20 different local communities from across the U.S., including here in western Massachusetts. The exhibit offers a diverse genealogy of the incarceration generation and challenges all of us to remember our own past and use the insights of history to shape what happens next. A Spanish-language exhibit catalog accompanies the exhibit.
States of Incarceration will be on view alongside several additional installations, including an exhibit titled The Carceral Commonwealth on how incarceration impacts families and communities in Massachusetts, a photographic installation about Holyoke-based community organizations (on display in Holyoke), and exhibit panels and artifacts on history of incarceration in Hampshire county (on display at Historic Northampton).
Simultaneous to the exhibition, Wistariahurst, Forbes Library, Historic Northampton and several other organizations are offering public programs on this theme, including field trips, film screenings, workshops, and lectures. Events include a youth-led workshop for school-based professionals led by Pa'lante, a restorative justice group from Holyoke High School; a Know Your Rights workshop led by local civil rights and defense attorney Luke Ryan on March 9; and a talk about the history of the Northampton state hospital on March 29, hosted by Historic Northampton and Forbes Library.
In addition, six local libraries have teamed up to present Hamptons + Holyoke Read, featuring a community read of the book Orange is the New Black and other related programs, including a panel discussion with three women who were incarcerated with Piper Kerman and whose lived experience informed the book and the TV series. On March 30, the exhibit culminates with a "Local Action Forum", bringing local students, scholars, community members and activists together to discuss ongoing work to build the collective power of communities affected by mass incarceration, hosted by the UMass Alliance for Community Transformation and sponsored by the Feinberg Series. Additional programs will continue into April.
States of Incarceration is presented by the Feinberg Family Distinguished Lecture Series, the UMass Amherst Public History Program, Forbes Library, Historic Northampton and Wistariahurst, with support from the Humanities Action Lab, the Institute of Museum and Library Services, the National Endowment for the Humanities. Additional support was provided by The Wauregan, NEPR, the UMass History Department, and the UMass Office of Research Development.
States of Incarceration was created by the Humanities Action Lab and designed by Matter Practice. The web platform, statesofincarceration.org, was created by Picture Projects. The Spanish-language exhibit catalog was created by María José Giménez (translator) and Maggie McDonald (graphic designer). The Carceral Commonwealth was created by UMass students and local residents and designed by Jennifer Luxton. Wistariahurst created the photographic exhibit about Holyoke-based community organizations, and Historic Northampton and UMass students collaborated to create the exhibit components on incarceration in Hampshire county. More than three dozen additional students, faculty, activists, community leaders and people with direct experience with incarceration contributed to the creation of these exhibitions and programs.