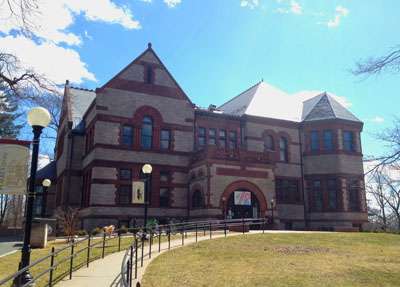 Forbes Library, the public library for Northampton, Massachusetts, provides a wide range of information, materials and services to all of the people of Northampton and Massachusetts.  The library's magnificent building offers a friendly, welcoming physical environment which encourages the civic, intellectual, and cultural pursuits of the public. Forbes serves as a community meeting place in which curiosity, free inquiry, and lifelong learning are supported and nurtured. The library is open 48 hours per week, and many resources are available online 24 hours a day, 365 days a year.
The Forbes collections are large and varied including not only popular fiction and non-fiction, large arts and music and children's departments, and an impressive art gallery, but also an extensive local history and genealogy collection for Hampshire County as well as the Calvin Coolidge Presidential Library and Museum. Forbes also offers Northampton an array of programming and reference services for both children and adults, ranging from author readings, to music and dance demonstrations, dramatic readings and performances, to writing workshops, book and poetry discussion groups, internet training workshops, knitting, chess, and storytime.
Forbes Library is incorporated as a 501(c)(3) nonprofit and is governed by an elected Board of Trustees. It is funded by a combination of City appropriation, endowments, and other gifts and grants. Forbes Library is a member of the Massachusetts Library System and the CW MARS network of libraries in Central and Western Massachusetts.
Other Pages in About The Library