About Us
Welcome to the Forbes Library Children's & YA Department! There are three ways to access the department, which is located on the lowest level of the building:
1) The staircase entrance on the west side of the building
2) The staircase from the main level
3) The elevator from the main level
Come downstairs when you're at the library to see all of the exciting things we have to offer.
Sign up for our email newsletter to receive information about our special events and ongoing programs.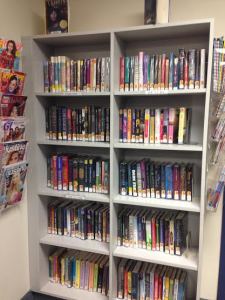 Our Collection
We have over 37,000 items including:
Picture books and board books
Easy readers
Fiction and non-fiction
Young Adult fiction and non-fiction
Graphic novels
Magazines for children, teens, and parents
DVDs
Audiobooks
Music CDs
Parenting books
Video games

Services
Reference
Need help looking for a book on a specific topic? Maybe a recommendation of what to watch next? We're here to help!
Programming  
From storytimes and book clubs to Minecraft Club and film screenings, we offer something for everyone! For a complete calendar of Children's & YA events, click here.

The Space
The Children's & YA Department has several features of interest. These include:
The Mural: If entering from the main lobby of the library, the mural will be the first part of the department you see! Created by local author and artist, Jarrett Krosoczka, the mural includes work done by authors and illustrators who have called the Pioneer Valley home at one point or another.
The Craft Room: The primary feature of this room is the two tables at which our younger patrons can draw, play board games, or enjoy a small snack! There are also puppets, a large dollhouse, and two computers loaded with children's games.
The YA Room:  This room houses most of the Forbes YA collection. It includes tables for work, couches for comfortable reading, and computers for study and play. Come hang out!
The Aquarium: We have two large aquariums featuring a variety of fish both big and small! Paco, our resident Pacu fish, has been at Forbes for about 30 years! In 2017, Paco's tank was upgraded with funds provided by the Friends of the Forbes Library, and art for a backdrop was provided by local author/illustrator Jeff Mack.

More about Paco!
Paco is the most popular member of our staff. Make sure to say hi to her next time you are in the library!
Paco is a pacu fish. Although pacu fish are related to the piranha, Paco is naturally peaceful and friendly. Pacu fish come from the Amazon region in South America and also some places in Central America.
Paco will eat anything. Normally an herbivore, Paco will eat small fish or shrimp, and is wild about treats like strawberries and bananas.