About Us
Welcome to the Anna Gertrude Brewster Children's Room! We are located on the basement level of Forbes Library with a separate side entrance. Come downstairs when you're at the library to see all of the exciting things we have to offer.
Sign up for our email newsletter to receive information about our special events and ongoing programs.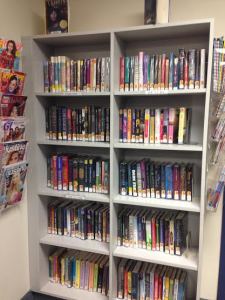 Our Collection
We have over 28,000 items including:
Picture Books and Board Books
Fiction and non-fiction
Young Adult fiction and non-fiction
Reference Books
Magazines for children, teens, and parents
Videos, DVDs, and Playaway Views
Audio Books on CD and Playaway
Music CDs
Parenting Books and DVDs
Potty Training Kits
Video and Computer Games
Reference
We offer reference assistance and readers' advisory services to all. We are happy to help you find whatever you are looking for or order items through interlibrary loan. Don't be shy-ask away!
Programs & Events
Our department offers many programs and activities for children and young adults. Some programs include summer reading, story times, tummy time, crafts, author talks, Minecraft Club, and book groups. Find out what's happening in the Children's Room here!

Computers & Internet
We have computers available for children and teens in the Young Adult Room. Internet use, Minecraft, Tumblebooks and more. Teens can sign up at the desk to use a computer and younger children can hop on to play games on our desktops.
Toys & Games
The Children's Department has a great selection of toys to play with while you visit. Board games are available too. We have all the classics including Monopoly, Chess, Checkers, Chutes & Ladders, Life, Twister, and many more!
Drop-In Art Table
Available daily, kids and parents are welcome to wander over to our art table to color, craft, work on puzzles, and play card games. The art table is also our quick snack area!

Meet Paco!
Paco is the most popular member of our staff. Make sure to say hi to her next time you are in the library!
Paco is a pacu fish. Although pacu fish are related to the piranha, Paco is naturally peaceful and friendly. Pacu fish come from the Amazon region in South America and also some places in Central America.
Paco will eat anything. Normally an herbivore, Paco will eat small fish or shrimp, and is wild about treats like strawberries and bananas.
Believe it or not, Paco is almost THIRTY years old!