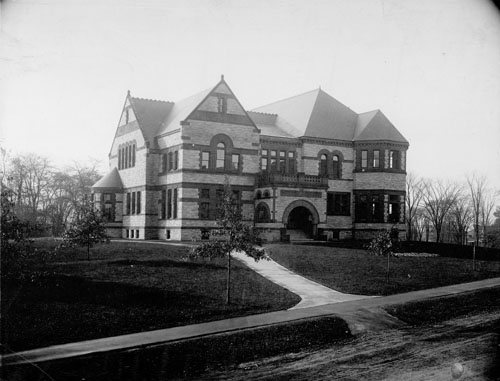 by Lilly Lombard
http://www.gazettenet.com/Columnist-Lilly-Lombard-celebrates-the-stately-row-of-oak-trees-in-front-of-Forbes-Library-12183381
The iconic row of shade trees lining the front of Forbes Library is grand and stately like the building itself.
In 1897, four years after the library's completion, one of Forbes' founding trustees, Arthur Watson, planted 13 pin oak trees precisely along the property line, fulfilling the Greek proverb, "A society grows great when old men plant trees in whose shade they know they shall never sit."
Indeed, over the 20th century, the trees reached skyward, spread their shady limbs, and gradually became the defining feature of the library's inviting grounds. As they grew, their trunks swelled onto the public right of way, legally converting the oaks to "public shade trees" protected under Massachusetts General Law 87.
It is hard to overstate the emotional impact these trees have had on library patrons, pedestrians and neighbors over the decades. As a longtime citizen tree advocate and now chair of Northampton's Public Shade Tree Commission, I hear regularly how beloved these trees are, how much they enhance our sense of place, and how saddened people are about their recent, obvious decline.
The library staff and trustees also feel the loss. Forbes Library Director Lisa Downing said, "We see the property as an extension of the library itself and are very sad to lose these gorgeous shade trees that have been a part of the library's history practically since the beginning."
My first encounter with these majestic oaks is as memorable as it was transformative. Sixteen years ago, weary of our shallow-rooted life in suburban Washington, D.C., my young family went "community shopping" throughout New England to find a better place to settle.
In every town we visited, we spent time in the children's section of the public library and asked fellow parents what they valued in their community. After such a visit to Forbes, I vividly remember lying on the library lawn with my infant daughter, staring in wonder at the column of mighty oaks, and having instant clarity of thought, "I want to live in a place where people value trees like these and a library like this." Six months later, Northampton became our permanent home. Today, Forbes remains tied for first place on my teenage kids' list of favorite places in town.
Tragically, in 2006, the Forbes Library oaks sustained critical root damage when the state widened Route 66, an action that is allowable under the law. Local tree advocates wrung our hands helplessly as we witnessed the careless shredding of major roots and the removal and compaction by heavy machinery of the trees' life-supporting soil.
I remember one arborist friend shaking his head at the sight and saying, "I'll give those trees five years." Well, most have lived 10 more years, but their rapid decline is unmistakable. Three dying trees have already been removed, and half of the remaining trees are clearly terminal. They have dropped large limbs over the public sidewalk, lawn and road, creating unsafe conditions.
After extensive evaluation, Northampton's tree warden, Richard Parasiliti, is recommending that five of the remaining oaks be immediately removed. He has scheduled a public tree hearing at 6 p.m. Sept. 13, 2017, at the site of the trees, giving the community an opportunity to share feelings about the removals and to hear a more in-depth explanation from our tree warden why the trees must go.
Thankfully, members of Northampton's Public Shade Tree Commission, the trustees of Forbes, our city's tree warden, and Mayor David Narkewicz strongly agree that we should replace the dying pin oaks as soon as possible with a new generation of shade trees.
We have selected scarlet oak (Quercus coccinea) as the replacement species because of its many strengths: it is urban tolerant, has no serious pests, has bright red autumn foliage, and assumes a tall, spreading canopy at full maturity. Further, its native range extends from Mississippi to Maine. Thus, as the planet warms, scarlet oaks should continue to tolerate the climate of our western Massachusetts city.
This fall — stay tuned for the date — we enthusiastically invite members of the public to help us plant eight young scarlet oaks, returning us to the original 13 oaks that lined our library's sidewalk. A final benefit of scarlet oaks: they are fast growing, which means that, unlike Forbes Trustee Arthur Watson, we just may live to sit in the shade of these magnificent trees.
Lilly Lombard, of Northampton, chairs the city's Public Shade Tree Commission.