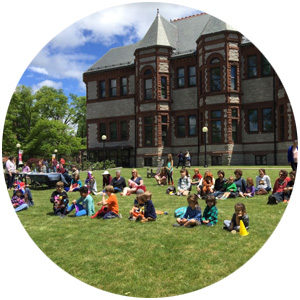 Strategic Plan

Forbes Library completed an eight-month planning process that culminated in the creation of a strategic plan for fiscal years 2019 through 2023 (July 2018-June 2023). The library submitted the plan to the Massachusetts Board of Library Commissioners, which is a requirement for eligibility for certain grants. Katy Wight, Trustee of Forbes Library, chaired the planning committee. "It is an exciting and ambitious plan that provides a framework for the library to meet the needs of our community and deliver higher levels of service," said Wight.
The plan was developed based on input from the community that was gathered through a survey, focus groups, conversations with community leaders, and a working committee comprised of community members. The result is a plan with five goal areas that largely focuses on themes of access, community, preservation, education, and innovation. "What we heard time and time again is that the community values the library but wants more access to it. We will strive to improve access by increasing hours, providing more digital content and reaching out to new and underserved audiences. We also plan to address the community's growing income gap by emphasizing free access to technology, educational resources and recreational reading and viewing," said Lisa Downing, Library Director.
The plan is available to view on the library's website, www.forbeslibrary.org, and a printed summary is available at the library. A public presentation about the new plan will be given on Monday, November 13 at 5:30 PM at the library. Call 413-587-1011 or email info@forbeslibrary.org for more information.