Sunny by Taiyo Matsumoto [Graphic Novel]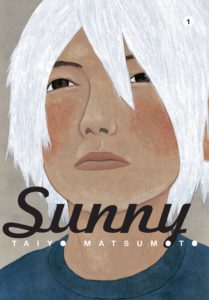 Eisner award winner Taiyo Matsumoto's semi-autobiographical account of the Star Kids orphanage is hands down the greatest unsung hero of contemporary manga currently being published. Why this book has not shown up on more "Best Of" and "Required Reading" lists is a puzzle, and I can only hope that this small dispatch might somehow get these books into more hands. The 6 volumes of Sunny (5 currently available – part 6 to be published any day now!) follow the day to day happenings at the Star Kids home – with each chapter showcasing one of the disparate, displaced children and their caretakers. These are mostly simple stories: the new kid tries to settle into his new home, dinner time arguments about what to watch on t.v., the fallout from a white lie about a cup… but what makes them special is Matsumoto's ability through his poetic mastery of the language of comics to instill something stronger than empathy – the reader is actually transported into the hazy logic of youth through the combination of pictures and words.
The following chapter titles, one from each volume, hint at the simple majesty at work:
Chapter 2: "Why're Dracula's fingernails so long?" "'Cause he doesn't cut 'em."
Chapter 12: "The city always seems angry." "Like it's shoutin' 'HEY!' or somethin'?"
Chapter 17: "If I had my own department store, I'd make every floor for toys." "That's just a big toy store."
Chapter 24: "Auoooh." "Waaaaa."
Chapter 29: "You think a rainbow's hot if you touch it?" "The blue part's gotta be cold."
These slice of life vignettes somehow manage to capture the elusive feelings and perspective of a child – treating all of their melancholy and frustration, as well as their elation, with an uncanny sympathetic tone – all through his evocative illustration style combining scratchy pen with spots of ink wash. The ambivalence of a runny nose, the proprietary daydream space of a broken down car (a Nissan Sunny 1200, for which the series takes its name), and the powerfully charged relic of a mother's hand salve tin are all presented with what could only be considered magic. At some moment while reading (possibly during a characters' first foray into shoplifting, or while everyone is scurrying to get out of an oncoming storm), through some sort of literary sleight of hand you'll realize your heart has just been inextricably joined to the Star Kids' lives and will potentially need some mending when you flip closed the last page.
Beautifully designed and printed as part of Viz's Signature Editions, these small hardcovers are given the proper presentation to contain the deeply affecting stories held within.